Don't make customers think about whether they should pay you
05.11.2020 - Bastian Kres
…because they probably won't
I recently watched a few videos on YouTube about the latest and greatest LEGO sets. I didn't do it because I'm super interested in LEGO (that was a while ago) but because the YouTube algorithm decided that I had to. I naturally obeyed. The results were as expected: I felt old and none of those sets triggered any kind of "I need to have this" response. Until I saw this: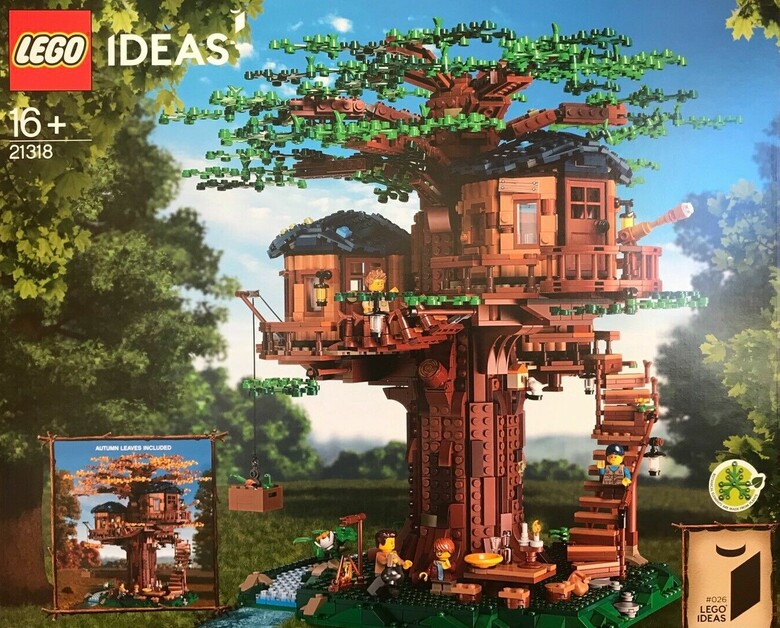 This beautiful tree house immediately sparked my interest. It's cute, it's not one of those boring license sets (Star Wars, Harry Potter, Minecraft, …), the price to number of LEGO pieces ratio is okay (still super expensive!) and it would fit nicely between my house plants which I foster - and sometimes kill - in my living room.
So, I did something I usually never do: I made an impulse buy. I put the 195 € tree house into the shopping cart, created a LEGO user account, entered all my data, chose "Invoice" as payment method and clicked "Buy". I received the automatic "Thank you for your purchase" e-mail and felt happy.
We are sorry
On the next day I received another e-mail. This time from the LEGO customer service. You can find the original German version at the end of this post, here is a short translation of the important part:
Dear Bastian Kres,

thank you for ordering your LEGO® toy directly from us.

Unfortunately, the total amount of your order exceeds the credit limit for payment on account and by direct debit. Therefore, we are not able to send this order yet.

Please call us to pay by VISA or MasterCard. […]
Well, here's the thing: LEGO knew that I was a first time customer and they also knew that the total amount of my order was about 195 €. If they didn't want me to pay on account, why did they offer me the option?
How to kill enthusiasm
1.) I would like to mention that wouldn't have had a problem to pay in advance. PayPal or credit card are good options which I use all the time. But by sending me this e-mail after I already selected my preferred payment method and ordered the thing, LEGO basically tells me that I cannot be trusted. And at the same time they want me to trust them…
2.) As I wrote before, this purchase was an impulse buy. The tree house is something I wanted. But after receiving this e-mail I had lot of time to think about whether or not I still do? Especially because I could buy a huge amount of real plants for 195 €. That would be good for nature, but bad for LEGO.
3.) By postponing the delivery until after I paid, they also created a whole new experience for me. Now I don't have the tree house in my hands, see how nice it is and pay happily. No, now I have this bitter taste in my mouth and a decision to make. Should I really be making decisions after I already ordered something?
Some lessons for online stores
As a web developer I always find it interesting to see how even very big companies still make mistakes like this. But the good thing is: We can learn from them!
Make it easy for customers to order from you, avoid any friction or inconveniences
Offer customers a broad set of payment options, omit those you deem too risky
Don't send customers "We don't trust you" messages after they already ordered something from you. It totally kills their enthusiasm
And that's it.
One last question remains: Did LEGO dodge a bullet because I would have sent the tree house back anyway? Maybe, but probably not. I rarely send anything back for two reasons: It's an effort and I'm generally lazy ;)
If any of this sound snarky: I'm sorry, that was never my intention. I just found it interesting (and wanted to share) how LEGO decided to set up this process, what consequences it can have and how I probably won't get a new toy but at least ten new house plants.
---
Obligatory link to Held der Steine and his LEGO Tree House video.
The original German e-mail
Guten Tag Bastian Kres,

vielen Dank, dass Sie Ihr LEGO® Spielzeug direkt bei uns bestellt haben.

Leider überschreitet die Gesamtsumme Ihrer Bestellung die Kreditgrenze für Zahlung auf Rechnung und per Lastschriftverfahren. Daher können wir diese Bestellung leider noch nicht abschicken.

Bitte rufen Sie uns an, um per VISA oder MasterCard zu bezahlen. Sie erreichen uns von Montag bis Freitag von 9 bis 21 Uhr aus dem Festnetz gebührenfrei unter 00800 5346 1111. Aus Sicherheitsgründen sollten Sie Ihre Kreditkartendaten nie per E-Mail oder Brief weitergeben.

Oder Sie zahlen den Betrag im Voraus auf unser Konto ein:

[…]

Sobald wir Ihre Zahlung verbucht haben, geben wir Ihre Bestellung automatisch zum Versand frei.

Wir möchten Sie um Verständnis für diese Maßnahme bitten und hoffen, Ihnen damit nicht zu viele Umstände bereitet zu haben.

Bitte melden Sie sich gerne auch mit Rückfragen zu Ihrer Bestellung unter der oben angegebenen Nummer.

Herzliche Grüße,

Ihr LEGO Kundenservice
---
Fragen, Wünsche, Anregungen? Webentwickler aus Regensburg gesucht? Schreiben Sie mir einfach!
Kontakt